Sunwaves Festival: SW20 @ Mamaia Sat
19 August, 22:00
Hello,
It's our anniversary! We're inviting all our friends from across the world to celebrate with us the 20th edition of Sunwaves festival. We are going to have one amazing edition.
Expect the Sunwaves experience!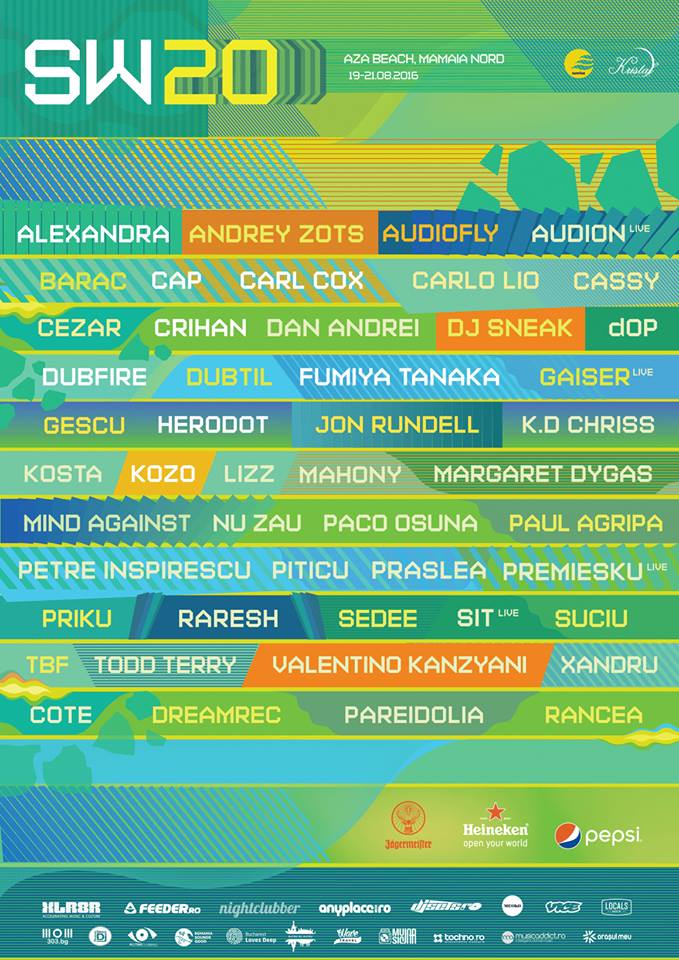 SUNWAVES | LINE-UP
(in alphabetical order)
Alexandra . Andrey Zots . Audiofly . Audion (live) . Barac . Cap . Carl Cox . Carlo Lio . Cassy . Cezar . Crihan . Dan Andrei . Dj Sneak . dOP . Dubfire . Dubtil . Fumiya Tanaka . Gaiser (live) . Gescu . Herodot . Jon Rundell . K.D Chriss . Kosta . Kozo . LIZZ . Lucas Ferro. Mahony . Margaret Dygas . Mind Against . Nu Zau . Paco Osuna . Paul Agripa . Petre Inspirescu . Piticu . Praslea . Premiesku (live) . Priku . Raresh . Sedee . SIT (live) . Suciu . TBF . Todd Terry . Valentino Kanzyani . Xandru
VJS: Cote, Dreamrec, Pareidolia, Rancea
SUNWAVES | TICKETS
+ TICKETS IN ADVANCE
You can buy tickets in advance (eTickets) until 18.08.2016 from our website tickets.sunrise.ro/ [ We are responsible just for the tickets bought from this shop.]
#FestivalPass – 129lei ~ 29e
– Access starting from Friday, 22:30 till Sunday, 22:30
+ TICKETS AT THE DOOR
Friday: 40lei <00:00> 60lei
Saturday: 100lei / all night
Daytime parties:
Saturday: 30lei / starting from 10:00
Sunday: 40lei / starting from 10:00
+ FURTHER INFO:
•• The eTicket system allows you to quickly buy a ticket, present it from your phone's display at the entrance for validation.
•• Please keep the wristband intact throughout the festival. With the wristband you will have access to all the night time & daytime parties. You will be asked to pay again if you damage, loose or transfer the wristband.
•• You will also be able to buy tickets for the night time and day time parties straight at the entrance.
•• The tickets in advance and the tickets at the door are sold in a limited number.
•• Please take your time and read our Terms & Conditions / Rules for the festival.
RO: sunwaves-fest.ro/legal/SW20-Termeni-si-conditii.pdf
EN: sunwaves-fest.ro/legal/SW20-Terms-and-Conditions.pdf
SUNWAVES | INFO
•• Festival Location
Sunwaves Festival::SW20 will take place on Aza Beach, in Mamaia Sat. For the exact location, follow this link: www.bit.ly/SW20Location
•• Local Info
Currency: 1euro ± 4.5lei | 1 dollar ± 4lei
Weather: The weather is pretty hot mid August, so make sure you dress properly.
ATM: There are no ATMs in the festival ground, but you can pay with your card at the bar. If you need cash, please find and withdraw money from an ATM.
•• Table service
In the night time tents there is a designated area for tables. To book a table, please call our colleague Betty – +40 722 795 184
•• Festival rules
RO: sunwaves-fest.ro/legal/SW20-Termeni-si-conditii.pdf
EN: sunwaves-fest.ro/legal/SW20-Terms-and-Conditions.pdf
•• Access
Access is forbidden for people under 18 yrs old.
–        Sunwaves Festival –
A fun venture of SUNRISE & Kristal Glam Club
For general info, media partnerships and press inquires please contact: info@sunwaves-fest.ro
For any other info, please check only our official pages:
⋮Sunwaves FB Page – Sunwaves
⋮Sunwaves website – http://www.sunwaves-fest.ro/
⋮Sunrise FB Page – SUNRISE
⋮Sunrise website – www.sunrise.ro/
⋮Kristal FB Page – Kristal Glam Club
⋮Kristal website – www.clubkristal.ro/
Details
Start:
Fri, 19 Aug ⏐11:00 pm
End:
Sun, 21 Aug ⏐11:00 pm
Event Categories:
Event Tags:
Festival, petre inspirescu, rhadoo, Richie Hawtin,sunwaves, techno
Website:
https://www.facebook.com/events/101529686933929/
Organizer
Sunrise
Venue
Kazeboo Beach
905700 Năvodari
Năvodari, Romania