As a symphonic metal fan, the tour of Epica, Vuur and Myrath was very promising. So promising I caught the first two of its dates, Krakow and Zlin. Close enough to see them both, and yet different in enough way.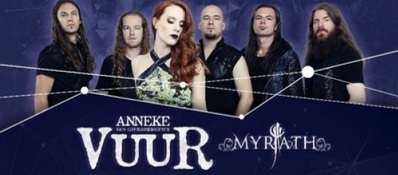 Let's start with Myrath, the oriental metal band from Tunisia. I saw their show once before and knew them and the songs, so I was definitely excited to see them.  A very short set of 5 songs is not enough, but it makes me want to see them again on their next tour. Their biggest hit, Believer, was definitely the highlight of the short set and a powerful way to begin it. If you haven't seen the video for it yet, it is really worth it.
What followed was Get Your Freedom Back, Nobody's Lives, Merciless Times and Beyond the Stars. Their songs are really fun, with great instrumental, orchestration and vocals. I also love that they put thought into the stage outfits, matching them with their music. (I also love that I can discuss the outfits of a male band.)
Zaher (frontman) gave up his real-life Disney Princess image in Krakow to keep asking the public how they are 'fucking' doing. He would not stay still for a minute, but the guitar and bass player were doing that for him. Shoutout to Elyes for being energetic and present from behind the keyboards. Seeing two shows in a row, I could observe that the Krakow audience really responded. In return, the band was filled with that energy and put on a great show. I felt like I watched a complete show, not like it was an opening band. In Zlin, however, the audience was more … merciless.
All in all, if you know the songs, it was a party! If you didn't, you were in for a treat. They provide something unique, that works very well and fits in the symphonic metal scene. I am glad I got to see them and expect only good things from their upcoming album and tour.
VUUR – The new band of Anneke van Giersbersgen is doing their first tour in support of "In This Moment We Are Free- Cities", a great first album. I am not a huge fan of prog, but I was sold and became a big fan of Vuur. Great, powerful instrumental and Anneke's trademark voice really work together.
The band can really put on a show! I have never seen someone happier to be on stage than Anneke. She exuded pure joy and light, managing to sing the whole set while smiling and dancing. She is such an impressive singer, performer and singer. It was her show, but the boys held their own, not just musically, with Johan's constant jumping and kicking,  Jord's easily recognisable long blonde locks , Ferry's energy and Ed, the master of the drums. Vuur means fire and that's exactly what they are giving you!
As one (non-fan) would expect with prog, the songs sound incredibly similar. But you just love it! From beginning to end, the audience can sense such a strong warm energy. The band quickly goes through cities in their album (yes, the album is one about cities, keep up) like Santiago, Berlin, Istanbul, London and Helsinki. Two gems from Anneke's past delight the audience: The Storm (from … The Gentle Storm) and Strange Machines (The Gathering cover).
The mighty EPICA  enter the stage in a cloud of white light and smoke, to a screaming audience. This was the third time I was seeing them and their show is only getting better and better, just like their music. Simone and Mark's vocals are a perfect match and each song showcases not just that but also the skills of the band as a whole.
The crowds went wild and the band even more so. Singing, jumping, headbanging! We got it all! Coen is the most unique and metal keyboard player out there, with his rolling and rotating keyboard set and his keytar. Isaac, Mark and Rob are covering the whole stage. The band has great moments of interaction with the public, inside jokes, gimmicks. The lighting show continues to be a spectacle in itself throughout the show
They played their always-present crowd-pleasers like Cry For The Moon and Sancta Terra, older songs like Sensorium/The Obsessive Devotion. We got to hear Fight Your Demons from their newest EP – The Solace System. Of course, we heard songs off their latest album: Edge of the Blade, Universal Death Squad, Beyond the Matrix, Dancing in a Hurricane, Ascension – Dream State Armageddon or Reverence (Living in the Heart). Their setlist changes slight from show to show, which can only be a great surprise for fans seeing them multiple times.
No show is ever complete without Consign to Oblivion. With that, it ends, the crowd cheers, screams, cries, but eventually goes home knowing what a great show they have seen. Epica is such a well-oiled machine, striving and almost reaching perfection. You know what you come for and every time it's going to be there: powerful bombastic music, heartfelt vocals and challenging instrumental, light show, energetic and intense stage presence. It is sometimes just overwhelming how good they are! That's why they are The Mighty Epica!